Editing and Graphics
Edit Suites
Acrobat Television's post production facilities consist of edit suites, with a full range of video effects, integrated 2D and 3D graphics, colour correction and audio recording. Although the current systems are entirely file based, with footage being accessed from fast servers capable of handling 4K UHD production, we have retained a range of tape based VCRs for access to archive material.
The non-linear systems work powerfully as an integral part of Acrobat Television's file based management system to provide, what has been refined to be, one of the most efficient work flows in the industry. This allows our skilled editors and designers to concentrate on what they do best – making stunning programmes.
Voiceovers are digitally recorded directly to the edit system from
our purpose-built audio booth ensuring the best possible quality.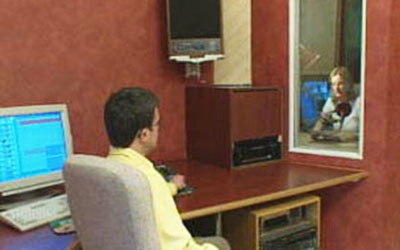 Footage library
Acrobat Television's workflow incorporates 'Shotstore' a highly advanced online footage database and library system developed specifically for Acrobat. This provides instant access for our production staff, from anywhere in the World, to one of the largest libraries of footage in the UK – over 10,000 hours of broadcast standard material. Editing at Acrobat means that you have immediate access to this unique resource so that you need never be short of the ideal shot to complete a programme..
Multi-Platform Media
Formats and platforms:
Online video adds another dimension to your website and improves the site's search engine optimisation. Web content should include promotional video, virals and podcasts which can also be repeated on social networks such as YouTube, Twitter, Vimeo and Facebook.
Internally employee notifications and training material can be disseminated via your intranet much more powerfully using moving image. Descriptions of new products or services, induction or health and safety requirements, the chairman's message, annual reports etc. are all brought to life when shown as video clips.
Programmes are delivered in many different ways. A programme made by Acrobat can be encoded to suit any of the requirements dictated by the multitude of platforms.
As well as file based delivery we can still produce DVD and Blu-ray discs. USB pens are extremely popular and can be provided in a host of different designs printed with your logo.
Our services include:
Encoding – for DVD, Blu-ray, web and mobile platforms
Authoring and mastering
Language translation – subtitling or voice-over
Replication and duplication
Face and sleeve design and print
Packaging options
Mobile Apps
– bespoke solutions for iOS (iPhone, iPad), Android and Blackberry
iBooks
– a disc based or downloadable 'virtual book' which can incorporate video clips
Slide presentations
– full screen video clips seamlessly inserted into Powerpoint presentations